So, the VMAs happened this past week, and, of course, I didn't watch it because I don't bother with inane mediocrity. (For the record, I was in Yountville when that shitshow aired, eating an It's-It while enjoying a sunset in the Napa Valley. So suck on that, MTV!) Nonetheless, there were a couple things about it that I noticed.
–the absurdity of some Britney Spears' fans. On some sites I check out, some Brit fans like to bring up that Christina Aguilera isn't as "successful" as Brit because of her "bitchiness." Well. If that is the case, explain the likes of Naomi Campbell, Justin Beaver, and Kuntye West for me. They've done far, far worse than Xtina has, and yet they have had a lot more shine than she's had. In Naomi's case, if bitchiness and unprofessionalism was a career killer, then she would not have been anything after her diva behavior caused her to be dumped by Elite Models in the early 90s. Oh well, let some Brit fans latch onto anything that makes Xtina seem horrible while their goddess is a do-gooder. Bitch please.
"Spears, Britney. Very stingy (although I'm hearing reports that this is not always true). Breast implants; uses padded costumes to enhance the effect. Has been known to enjoy marijuana (and coke, and E, and etc etc etc) on occasion. Chain-smoker. Has let her fame go to her head and become a beeyotch…" (find #2331 in the list, and this gossip came from 2004)
Hey, anyone who messes with my Xtina better do so rightfully and not ignore the other side of the coin. (And, for the record, while I have no problem defending her, it's not gonna be all the time. She sang with donut-licker Ariana Grande earlier this year, and that sucked.)
By the way, I don't know why Britney chose to perform at that show. (Or was it her handlers making her do so to promote her latest album?) I'm not even a remote fan of hers, and even I think the VMAs don't deserve her. Besides, she can't keep doing this sexy showgirl phoning-it-in shtick any longer. It's actually sad. She's better off taking her kids and money and getting away from her handlers and the media and living her life the way she wants to.
**********
I saw that most of the queens from "RuPaul's Drag Race All-Stars 2" were there. (No Adore, sadly. Then again, it's the VMAs; why should she be caught dead there?) Apparently, they were all wearing "iconic" fashions from past VMAs. OK…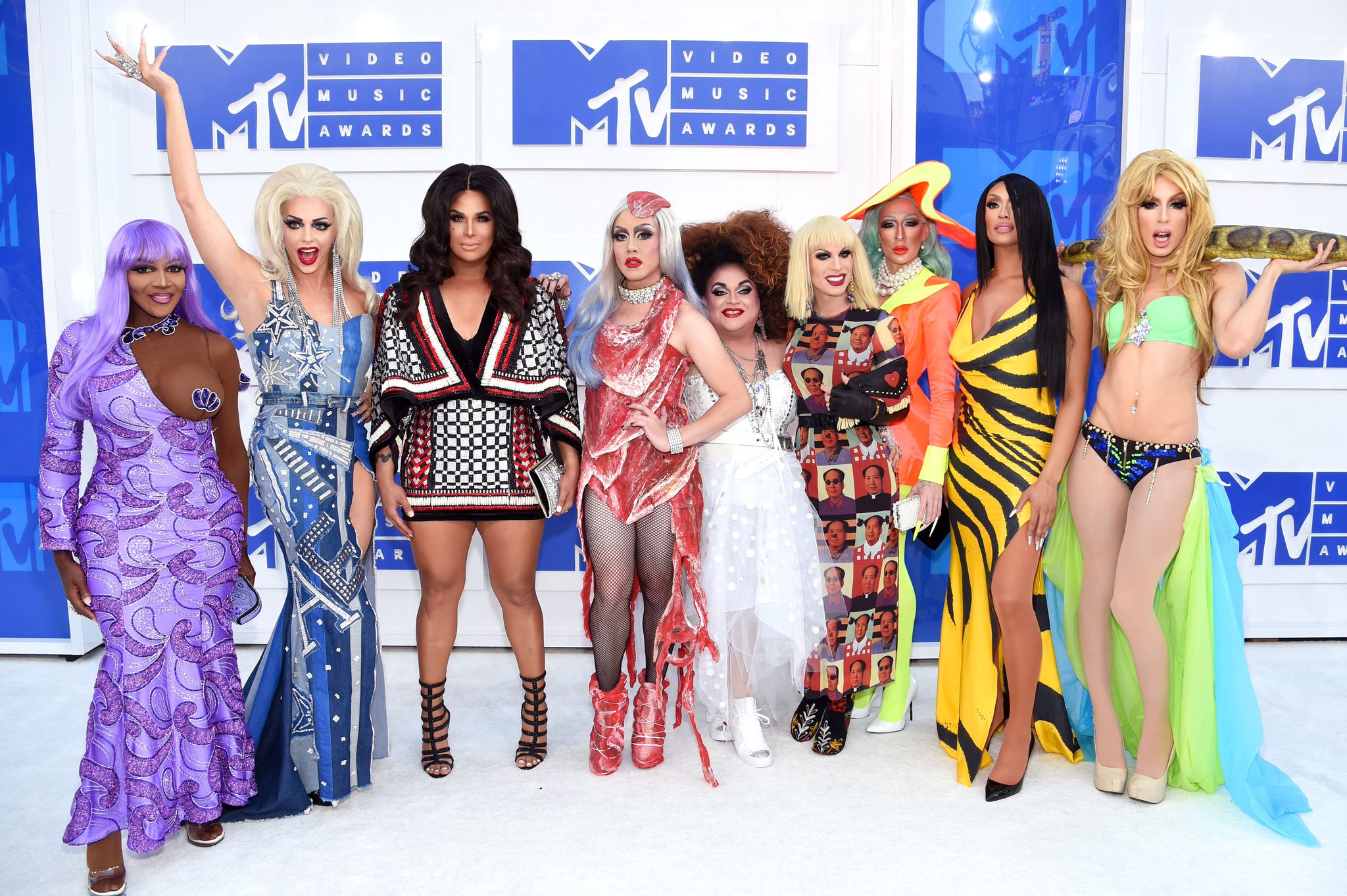 I only know four of these looks. I have no idea who the others are dolled up as, except for Roxxxy Andrews (third from left), who I like but (after reading RPDRs Reddit) chose to dress up as, of all things, Kummy Kuntrashian! Girl, no! There is absolutely NOTHING iconic about that cunt! The runway theme asked for "iconic" looks, but today you served up forgettable. I'm sorry, Roxxxy, but you (and Alyssa and Katya and Detox and Tati) are up for elimination. Seriously, I haven't watched the VMAs in yeeeeaaarrrsss, but I know what the hell was iconic on their slut carpet. Not even Carmen Electra's "gown" from 1997 or Rose MacGowan's string thing from 1998 or, yes, Xtina's reverse cleavage top from 2002? Fuck, the compact that Courtney Love threw at Madonna in 1995 is a helluva lot more iconic than almost all these looks here. For shame, girls. Now sashay away!
*************
Well, at least that VMA mess is over, and now I can focus on the nicer things in life, such as two beauties born on this day:
and, of course…
Should the stars and planets align to give me good luck and these two approach me, I bet the first words that come out of my mouth would be this, because SLUT:
I swear, threesome fantasies involving Salma and Keanu (even if they now have over 100 years combined on me) are a lot more interesting than the past 16 VMAs.