Maybe it got mentioned here a while back, but yours slutty is really into makeup. Not to where I always have to paint my face and sleep with a painted face every time, but I enjoy playing and experimenting with the many, many products out there. My bank account now hates me more because in addition to my rising house rent and rising health insurance costs, I'm also spending it on beauty stuff. It's gotten to where I can't avoid stores like Ulta and Sephora (or, in my case, the Sephora at JCPenny–hey, I live in that kind of town where we still have a JCPenny, but not a stand-alone Sephora store). So there may be a time in the near future when I won't have enough to pay my monthly health bill and then I get a shitty illness that sends me to ER, and I know it's gonna cost me $$$$, but at least my mug will look muy hermosa. (But who am I kidding, with the way our shoddy gov'ment is going, they'll raise my premiums twenty-fold to where I can't afford it at all!)
I never bothered with online makeup tutorials (more on this later). I knew how to do basic stuff with makeup, but I feel like my skills got refined thanks to, believe it or not, drag queens. (Yet another good thing from watching "Drag Race"!) Now, I'm not painting myself like Trixie Mattel (although I'm thinking about doing so for my work's spring party happening soon, because having a drag queen-esque mug is one way to liven up a party!), but I've adopted some of their techniques–you know, cooking your makeup, use primer beforehand, add a lot of glitter when I'm feeling down…
Then there are some things some chicks do that I don't bother to do. I don't need false eyelashes; a lash curler and primer is sufficient. Highlighter and a matte lip have been the hot things in beauty for a while, but a little bit of the former and none of the latter are good enough for me. You see, I got oily skin, and highlighter tends to make my skin look shiny. I use matte primer and powder foundation, so a lot of highlighter defeats the purpose of keeping a shine-free face. Also, I once got a courtesy makeover by some chick at the Urban Decay booth at Macy's one time. She put a lot of highlighter on me, and I swear I was glowing like Farrah Moan. Which is NOT the look for me. Fine on Miss Christina, er, Farrah, though. As for the matte lip, I'm not a fan of the finish. It's funny that I want a matte foundation, but not on my lips. I prefer a shine or gloss to my pout. I will say that I'll make an exception for ABH's liquid lipsticks. That stuff stays on and I bet it's blowjob-proof!
Going back to the online makeup tutorials that I don't do, let me illustrate a point by using pics. Depending on where your stance in beauty is, this may annoy you:
(note: I intentionally shrunk the pics. Even seeing these results from Miss Google annoyed me.)
And all I have to shout is: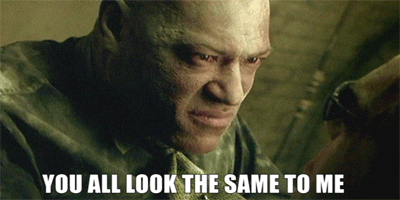 Why do they? Aren't these the same chicks that say "just be yourself" and "do you own thing and be awesome" when, in actuality, ALL THOSE OVER-FILTERED SLAGS LOOK THE FUCKING SAME??!!! Lemme guess: these basics also wear cheapo leggings, are on their cell phones every other nano-second, and sip Starbucks lattes and preach "have your own sense of style" as well. Also, when your beauty idol is a Grade-F lying, plastic slunt with no talent, brains, and backbone, and you're using overhyped "beauty products" from a Grade-Z slag who was whored out by her pimp mom since Day One (who is also the younger sister of Grade-F lying, plastic slunt), I should feel sorry for you, but I don't feel sorry for those who support idiots. (I'm sure the YouTube "beauty expert" with her "5.5 million subscribers" thinks I'm a bitter, jelly beeyotch here. But I just can't be bitter over someone who looks like 500 other "beauty experts" on YouTube–with the Insta filters/photoshop used in the after pics, natch–and jelly that she looks up to no-talent, reality show lying plastic cunts as her beauty inspirations. But she's got the beeyotch part right, so I'll give her that.)
Thank goodness I was a teen in the late 90s, for these were the faces and images that I saw when I got introduced to makeup:
*pops a Werthers* Ya see, you young whipper-snappers with yo' excessive highlighter that can put out someone's eyes, back in mah day we didn't have YouTube or Instagag or cell phones that had cameras built in 'em. And we didn't have no-talent reality show hos to look up for *snorts* inspiration. Naw, we had fashion magazines and beauty articles in the fashion mags to teach us how to do makeup. (We even called a number on our landline phones for free makeup stuff!) And we had actresses with talent and supermodels. Gorgeous, actual supermodels who didn't have rich parents and connections to buy their careers, but gave phenomenal face and style! But take a look at those ads above and you'll notice two common threads:
THEY ALL LOOK DIFFERENT. AND (for the most part) NATURAL. 
And while there's still airbrushing involved, I can tell the difference between Niki and Christy and Milla. You can't tell a lot of the YouTube/Instagag beauty chicks apart! It's a great thing I grew up with these faces and ads, because the natural look has always been THE look for me. If I was a teen today, I'd be not only fucked in so many ways (except in the best way, unfortunately), but I'd also look like a damn, over-highlighted clone if I looked to YouTube for my beauty/makeup tips. The ads/images for bareMinerals these days are the closest to those beauty ads from the 90s, and yet the face BM promotes is somehow not the face I see when I see beauty/makeup images. So I also ask: why the heavy promotion for a heavily-done face? Do you really, really need eight eyeshadows to get the right look? Do you really, really need all 'dat highlighter? Why can't a natural look suffice? And, most importantly, why can't looking truly like yourself cut it these days? Must having the same overly-done look be the most-promoted image out there? And why force-feed that image to young women, some if not many of whom have self-esteem issues? It's like the Top 40 "music" these days where a lot of the popular "songs" sound the damn same and I keep seeing the same 'ol skinny jeans promoted season after season and fashion calls it "the new look for the season." Bitch, I see all of your bullshit.
Clones are only fascinating from a scientific perspective, but it's never cute to do your face like the next girl down (and the next girl down and the next girl down…). If it's a sin for two women to show up to the club wearing the exact same outfit (and, trust, I've seen a lot of sinning at Ruby Skye in the past few years), then shouldn't the same rule apply to makeup?
Oh, and to the "beauty experts" on YouTube with their dubious beauty inspirations: Google "golden age of Hollywood actresses" or "80s/90s supermodels" for some real, inspiring beauty. And turn off the fucking K! channel, why don't 'cha.