I work an on-call job a few days a week (with Wednesday being one of those work days), and I was expecting a call/text from them saying I got booked an appointment. I didn't hear anything from them, meaning no work today. YAY! I worked the past two days, and I'll be working for the next three days straight. Thank goodness I no longer work Sundays, because Mother's Day is on Sunday, and if I worked today…well, I'd be armless by the end of the weekend. I've been working like crazy the past few months, so any day I can get a day-off is a good day. (And better when I don't have to leave home.)
I woke up to see that the Giants won. They won a game! Sheeeeiiiit. Seeing the words "Giants win" is like seeing a well-behaved female teen celebrity who happens to be properly dressed and NOT doing social media. It's become a rarity these days! 😛
Today was also Game 7 between mah Penguins and those Capitals. I heard about those stats where the Pens were 3-0 on Game 7s vs. the Caps and stuff like that, but I didn't want to buy into that in the case those stats would curse them in this game. Game 7s in a playoff round are like Lip Sync For Your Lives, and, in this case, it looked pretty tight in the first period. Then, in the second period, the Pens took their wigs off, only to reveal another wig underneath, started doing splits and ice-swiffering with their taints around the Caps', then pointing at the Caps and telling them "never gonna get it, never gonna get it…"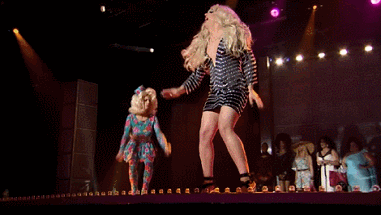 If you can combine all three of these queens' moves into a sports team, they'd be the Pens in that Game 7. (I tried finding a GIF of Raven doing that bold-as-hell move during her first lip-sync in Season 2, but this was the best I could find. LOL at a spinning Nicole Paige Brooks.)
After seeing that second goal by the Pens in the third period, I was all Michelle Visage…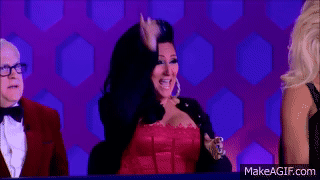 A day-off form work, mah two favorite sports teams winning on the same day, and it happened on Linda Evangelista day!
You see this? This is a model who earned all her fame and wealth and respect WITHOUT social media and rich parents with connections, who never gives a dead-eyed, dull-face expression, and can actually give you more than one face for the camera. I'd say the Hadon't girls and Kendull Jenner can never be as good as Linda, but then I'd be acknowledging that those spoiled slags are models in the first place.
And, a gorgeous full moon rises for the night.
Good day overall. Time for some wine.