And it's not just a chant I barked as an air-headed teen 20 years ago. (Thanks, Spice Girls!) It was what was displayed all over the nation–and the world–when women and men and children of all nationalities and ages participated in the Women's March.
Yes, I took a day-off from work to do this march. Like I'd skip out on something historic in favor of something like work. Being in the Bay Area, I had plenty of choices on where to march at. I even thought about going to Sacramento so I wouldn't have to deal with Bay Area traffic and that pesky toll bridge fee. But all but one march started in the wee hours of 10 in the morning. I'm not a morning person, and there was the option of attending these marches a little later from its start time. Thankfully, the SF march was to start at a very suitable time for me: rally at 3PM, march at 5PM. So, yes, I did have to deal with the toll bridge, but traffic wasn't too bad. Of course it wasn't–I took BART to the city. No way in hell would I drive there! Shit, we were to march down Market St. (the main thoroughfare of downtown SF), and any road closure in the city during the day (and more so on the weekend) is pure hell for drivers.
Here come the pics!
This was Market Street when I exited from the Powell St. BART station, around 5:30PM. I originally wanted to go to the Civic Center station (which was the very next stop after Powell, but it happened to be closed that very moment due to the rally happening there), but it didn't seem to be necessary. Time to march!
Of course, the signs were nothing short of kick-ass.
All these posters deserve a…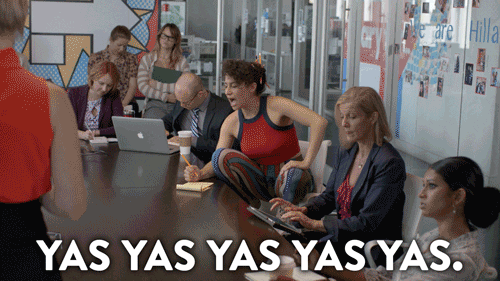 This one though…
Well, at least they marched, so "B" for effort.
Sushi and pussy…hey, it's the same thing!
Then there was this–possibly the funniest sign I saw that night!
Britney Spears doesn't know whether to laugh or cry on this! (She'd probably get a craving for cheesy puffs, actually.)
Here was the scene at Justin Herman Plaza–the end point of the march. It was a lot more massive than what I captured.
Because the hor in me never rests, I spotted a couple handsome hotties at the march. (Yaaasss that even hot men showed up to the event!)
Here's one of them–glad to have a good zoom on my camera here. As much as I liked seeing his long hair getting wet in the rain, he could've asked me if he wanted to stay dry. (And then I would've been what he was in the rain.)
Probably the most touching moment of the march was what happened towards the end of it. At the plaza, many marchers laid their signs out on the wet pavement.
When I looked at these signs, I was listening to this…
I shit you not, my eyes welled up a bit. I couldn't full-on cry, however; I try not to when I have my contacts on. The last thing I want to happen was cry and then my contacts fall out of my eyes and onto the wet pavement, and then I can't find them!
I did make a sign, by the way. I actually made mine's back in November, as there was an anti-Chump march in Sac-town that I wanted to attend, but couldn't because I had to take my little cat to the vet that day. When I heard of the Women's March, I knew my sign would come in handy.
And here's what it looked like after I marched.
Yes, I did leave my sign out there as well. I hope the ones that collected it didn't trash it, but preserved it instead for maybe a future art exhibition on this march.
Save the date.
Who needs a poster when you got spray paint instead.
All in all, I was proud to have marched. I was proud to have been part of history and something truly inspiring. Not since I rallied against the passing of Prop 8 nearly ten years ago did I come away with such satisfaction in that my actions meant something. (By the way, when I rallied against that, a couple years later, California overturned that law and allowed marriage equality. I'm thinking that by marching, maybe in a couple years, Chump and his evil regime will be out of office before their term ends! I hope so!)
I hope there will be more events like this. I'll be glad to attend them again!