I interrupt my usual hiatus away from here to opine on a pressing issue that is sweeping this nation "RuPaul's Drag Race" fans across the nation. And that is: this season's Snatch Game was bleh! Out magazine just called it the "worst" ever, AV Club labeled it "underwhelming," and plenty of fans were left unimpressed. And, look, I got an opinion on it, too!
First off, it was called "Supermodel Snatch Game" this season. When I first saw that, I was all, oooh, so the queens will be dressed as supermodels? I had my hopes up upon the possibility of seeing Kim Chi (a favorite of mine) dolled up as Cindy Crawford, but instead the episode was called that because of the guest judges that week. And when I saw who those "supermodel" guest judges were, that was the first bad sign. Gigi Hadon't?? And that other girl who I don't find as annoying as Gigi. Were Linda and Christy too expensive, too busy, or not funny enough for the show? And on top of that, both of those not-supermodels weren't funny and not good critics. It's only fitting that Gigi appear on Snatch Game, for it's the one time (besides working for (Out-of) Vogue magazine) she can go under the guise as a supermodel and get away with it.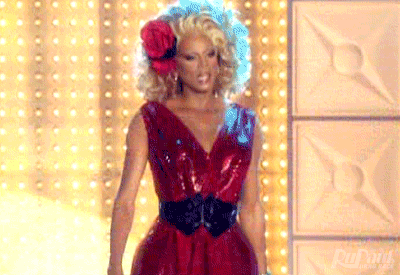 Pictured: the hostess herself, who's more supermodel in her wigs alone than all of Gigi. Ru did make the song "Supermodel", after all, and a cassette of that song would've made a much better judge than Gigi. 
***********SPOILER ALERTS (assuming you guys haven't seen the episode yet)****************
Not-funny not-supermodels aside, then there was the game show itself. I'm really digging Bob the Drag Queen, though she can be a show boat sometimes. Nonetheless, her win in the challenge was deserved, and it's not every season you get to see black Carol Channing on that show.
I didn't like Chi Chi Devayne's attitude in the "New Wave Queens" episode, but I liked her Eartha Kitt, so that redeems her…but not fully in my book. I'll have to wait and see if she turns her 'tude around for the better.
Kim Chi as Kimmy-Jong-Hobag whatever was enough to keep her safe, but that would've been interesting if she did Pearl (Season 7 queen). That would've made three queens doing impersonations of people opposite of their race in that show, and that would've made a more interesting storyline than the Snatch Game itself.
And…
EVERYONE ELSE SUCKED.
It's not right. It's supposed to be two queens (at the most) blowing chunks, not a majority of them.
Thorgy as Michael Jackson…I now see why people are into her, but just because another queen last year impersonated a man doesn't mean it can be done again…unless if that man is a total queen himself! (See queens that have impersonated other drag queens.) Jacko was no queen; he was a creep!
But the one that actually irked me the most was the one whom I like to call the Britney Spears impersonator (and NOT a drag queen) who, naturally and predictably, went with Britney. Who was impersonated before. By a queen who won that challenge, by the way. (I think there should be a rule where whoever wins SG, the celebrity that's impersonated should be retired from the game. This way, it gives more of a challenge to the queens and they have to come up with new faces.) Nonetheless, just when I hoped that she would be ripped to shreds by Michelle Visage…she wasn't and was declared safe. Michelle, after coming at her for it in past episodes, didn't mind it this time! No! Fingers crossed that the real Michelle comes back next week and lashes at the Britney impersonator then (assuming she sucks at the next challenge). And as for the Britney impersonator, she can't keep resting on Britney forever. That game was her chance to show that she could show some range and do something different, and she chose to play it safe and predictable. This game, let alone this entire show, should NOT allow their queens to be safe and predictable. And Brit-Brit wannabe better find some more tricks in her bag, because shit's going to get to her soon. It kicked out Milk when she stubbornly stuck to being a total weirdo the whole time, Max when she refused to get rid of her gray wigs (and that AWFUL Sharon Needles impersonation in last year's SG), and it may do away with her as well.
Also, two Britneys in SG history…but no Xtina??? Not even Madonna (oh, do NOT get me started on the runway challenge of that episode!) or Mariah, and we're already eight seasons in without an impersonation of them. We get a Michael Jackson (and–click if you dare–this monstrosity), but not someone fun and worthy of a parody like Pamela Anderson, Alexis Carrington from "Dynasty" (btw, why Alyssa Edwards–whom I WUV–did not impersonate her for SG is beyond me, for girlfriend had the look and attitude to be Alexis!), any of the Spice Girls, Paula Abdul, Elvira, Margaret Cho, Kathy Griffith, Carrie Bradshaw from "Sex and the City", Charo, or Naomi Campbell?? (I think none of these celebs haven't been impersonated, so yell at me if I'm wrong on any of these names.) Hell, Naomi Smalls should've done Naomi Campbell! She named herself after her and said she's obsessed with 90s supermodels and fashion…and yet she goes with a character that she couldn't make funny. Smalls better be glad she's got face and body for days, as that kept her from going home this week…but she better know that she can't keep resting on pretty any longer.
Last year's SG was my favorite SG of them all, and I had the feeling that this year's wasn't going to top that. Turns out it was much worse than I expected. Going into this season, I heard some people buzz about how the queens of this season were better than last year's queens. At least last year's queens chose some creative characters, and while a few of them didn't execute the impersonation right, at least it was just a few, not a majority of the queens like this year's. Should there be a Season 9 of RPDR, that Snatch Game better show real charisma, uniqueness, nerve, talent, and originality, dammit. (Cunt-o!) With real supermodel guest judges next time!
And, for the love of all things holy, no more Britneys on the game. Twice was enough.