Ever had two different events–one planned, one so out-of-the-blue–happen in one day that made everything seem so surreal? Welcome to my Thursday last week. (And try saying "seem so surreal" ten times fast.)
Because I'm a drag queen aficionado, I scored myself tickets to RuPaul's "Battle of the Seasons" tour, where they made a stop in San Francisco. And not just typical tix, but VIP passes so I can go meet all the performing queens plus the host of the show Michelle Visage! I was beyond stoked to know I was going to meet one of my crushes Adore Delano in person! As well as some of my favorites like Alaska and Violet Chacki. I'll admit, I was both excited and a little nervous prior to this event. I admired most of these girls from afar, and now that I had this one chance to meet them, this question kept running in my head: "what are you going to say to these girls?" And, specifically for Adore, "will you do your best to keep your fangirl ass under composure and try to not let the very first thing that comes out of your mouth be 'please do me now!'?" (In hindsight, I think she's had plenty of that come her way, from both men and women.) Man, if I was as nervous as I was in meeting A-list drag queens, imagine how I'd be like if I were to meet actual A-listers like Keanu Reeves? Since I'm someone who embodies the meaning of "YOLO" without having to say it, our encounter would most likely go like this (with the little girl being Keanu):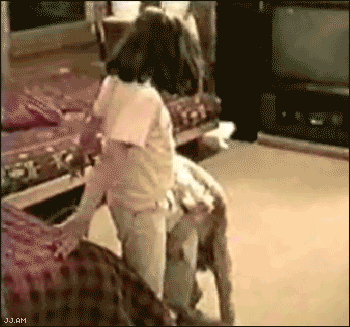 I'd risk being the laughingstock of all the world, but it may make me a HSotD on Dlisted, so maybe it will be all worth it!
****************
Back on track: when I woke up last Thursday, I thought it was going to be another Thursday, except that I was going to meet and be entertained by some drag queens. Then I checked my news feed (on the D, of course).
And then I saw the headline that just stunned me.
What. On. Earth. As if this year didn't take away enough of our greats, here comes this. Fucking A, Grim Reaper. Can't you take yourself out instead? (Well, not before taking out murderers, rapists, pedos, terrorists, Bible-thumping neo-cons, drivers who don't signal when changing lanes, and the ingrates keeping the Kuntrashians relevant.)
I can't say I cried, but it was going to be tough to listen to his songs. As it was when Bowie and Lemmy of Motorhead passed–I couldn't listen to their songs right away. Something about hearing their voices right after they passed seemed chilling, haunting. It took me a couple months to bring myself to listen to them again. As for Prince's music? Well, read on.
And this all had to happen on the same day as the BOTS show. I didn't have enough time to mourn as I needed to get my ass out of my house and beat SF traffic to arrive on time. Since I had VIP tix, us VIP pass holders had to arrive two hours earlier than general admission guests, so that we can have time to meet the queens. Stupid SF traffic and a lack of good parking areas near The Regency Ballroom almost made me late. I finally found parking at the Holiday Inn two blocks up from the venue (which was where us drivers to the event were suggested to go park at, which is proof that, sometimes, the email on event info is right).
Then something else came to mind: will the queens do a tribute to Prince that night?