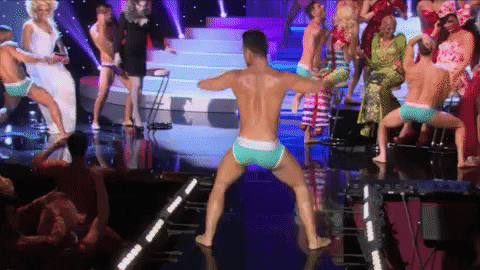 This GIF has nothing to do with the Leap Year; I tried to find some good GIFs for this special day but wound up with stuff from a movie called "Leap Year." The GIF is actually for me 'cause funny, and for Leo DiCaprio for finally winning dat Oscuh. He's probably partying just like this at the Vanity Fair Oscar party as I write this. You go, Leo!
By the way, this year's Oscars has got to be one for the books. As in, the Books of Pure Fuckery. It was both dull and a mess like the antics of Phoebe Price. For one, there was that dumb ticker scroll at the bottom of the TV screen for all the winners in an attempt to shorten the speech time (thus they list all the people they wanted to thank). Like that worked. The show still went on for 12 hours. If they were going to shorten some things, how about that Girl Scout cookies skit Chris Rock did? If anything, it should've been axed. Then that extra time would have been used for the speeches of the winners in the major categories, whom I've heard were getting cut off by that pesky orchestra.
If I were to give out an award for Most Puzzling Moment at the Oscars, it would have to go to the moment when Vice President Joe Biden spoke for sexual assault victims, before introducing, of all people, Lady Gags (typo and it stays) and her musical number. You know, the same Gags who enjoyed working with the vile likes of R. Kelly, Creepy Richardson, and Rick Ross–ALL of whom were accused of rape. The runner-up for this award, though, would go to the Stacey Dash appearance. In that case, Clueless isn't just the name of a movie.
And here was the bit I couldn't forget (and stop laughing over): the end music to the show. I kid you not, here's what the show played:
From "Do The Right Thing" to one of the least-diverse (in terms of nominees) Oscars in years, this song works for any occasion! This better be on the soundtrack in the next all-white (and a couple of minorities) A-list rom-com movie!
**************
I have come to the conclusion that I'd rather deal with a basic bitch than a fake bitch. At least with a basic bitch, I can work with her and turn her into a fierce bitch. But I cannot deal with fakes.
That being said, can the NHL Network replace those two basic blonde bitches they got for female correspondents? Especially that one chick with the squished face who's always wearing short, tight dresses. Yeah, I can see why she got the job. The network is better off having drag queens as their correspondents. Then again, everything is better with drag queens. I'd tune into my local news more often (provided that they shut it with their endless reporting on that orange combover some people call Trump) if Raja and Raven were doing the news.
*************
Speaking of drag queens, I can't stop watching RPDR. And I cannot wait for their marathon starting this Thursday, as well as this upcoming season! The marathon is great because they'll be re-airing episodes from Season 6, which has none other than my current favorite sexpot (besides Keanu and MadBum), Adore!!!
Oooh, I want his whore mouth to talk to me…
*************
And speaking of crush objects, I recently bought Sports Illustrated's "Swimsuit" issue. Why?
That's why! Ashley is looking fantastic, and, I have to say, the pics inside don't look too bad. I'm still not a big fan of low-rise bikinis, and some of the pics reek of photoshop, but it's nothing compared to what the magazine does when Kate Upton is in their pages. So, two questions beg to be asked. 1) If the magazine thinks their models are near-perfection, then whyyyyyy do they keep on airbrushing them? In this year's issue, I've seen some shrunken waists atop large hips (hahaha, like that model has that in real life), and no nipples. And 2) The magazine seems to be pushing for a more diverse collection of bodies, and a celebration of all shapes…so whyyyyy the airbrushing??? It's ridiculous.
By the way, I read some model in the magazine talking about "how to take a great selfie." Ugh, these no-surprise tramps. You models of today can brag about how many Instagram followers you got, but you'll never be a Claudia or Christy, both of whom have careers that happen to be pipe dreams for you chicks.
Oh, and STFU Cheryl Tiegs.
**************
I have this disgusting pimple on my right wrist and I'd love to pop it…but it's also sensitive to the touch and it's late at night now, and I'm not going to abuse myself like that at this hour. Maybe I'll get the nerve to do so if I imagine the pimple being someone I loathe. Like Justin Beaver. (And why the fuck is that hack on the cover of GQ this month? I swear, GQ has been shit in their covers in the last year. Then again, almost all the covers for Conde Nast magazines are worthy to go straight to the recycle bin. Or burned on the spot, in some cases.)
This year marked the fourth year in a row that I had to work a Valentine's Day. Being in the industry that I'm in, the only ways I can escape working on V-Day is if it happens to be my scheduled day-off (if I'm that lucky with my schedule), or if I'm too broken to massage. I swear, all of V-Day weekend was one couples' massage after another. Sure, I made a buttload of money that weekend, but I honestly felt like I was going to keel over in the middle of my 3rd session on V-Day. (And if I collapsed on the guest, I would've told them it's a new massage technique: the "body slump tapotement." I can channel my tired-ass lack-of-energy to you, so that you pass out on my table, too.) I don't know how I got the energy to do my last one of V-Day, but I'm glad I survived. And thankful for medical mary jane. Thank gawd I had the 15th off (and hooray that my weekday job takes President's Day off) to relax and get myself a massage.
***************
So, the Warriors keep winning, and I'm actually getting bored of them winning…but the way they win their games sometimes is entertaining. Case in point:
Raise your hand if you thought they were going to lose that one. I don't blame you.
It looks like former crush object of mine Tim Lincecum won't be returning to the Giants this year. It was to be expected. If you told me five years ago that this was going to happen to him, I would've kicked your ass 'CAUSE YOU A HATAH. I will say that this current Giants team, even during this Spring Training, already feels weird to me, and it's because he's no longer around. He was the guy, after all, that turned me into liking baseball and, consequently, the Giants. He was the guy that made the team interesting after the Bonds era and before they started winning World Series trophies. That, along with his then-bangable hotness, is something that cannot be forgotten. May Timmy pitch well again, be healthy, and happy wherever he chooses to play this year.
Like, seriously, you can't forget this shit at all (from the 2011 Spring Training).
********
***UPDATE 3/4: and just when I thought I published this, I did…but forgot to switch visibility from "private" to "public." That's why you're seeing this entry now than on its published date. (I always write my pieces under the private setting. Because just in case I click on update to save my work and it happens to be unfinished, at least I spare you guys from reading something unfinished and nonsensical. Though I may have an entry or three like that around here…)