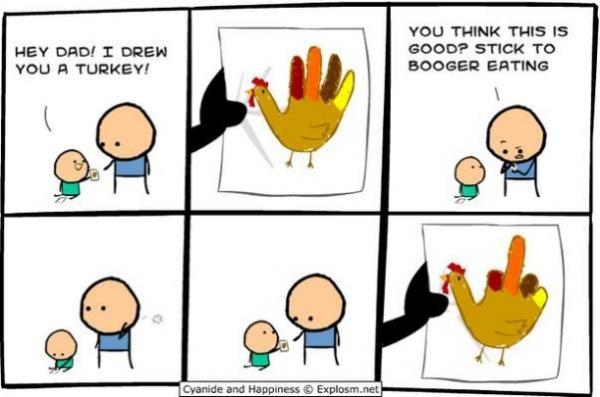 For Turkey Day last year, I happened to be thankful for some things. (In a year that, with the exception of a few things, was really shitty.) This year, it's time for the flip side and bitch about what I'm NOT thankful for this year. In no particular order…
1) Commercials for Twatter. They're not on YouTube and if they were, would you really want me to suffer a second of watching it while trying to get its URL to paste the vid here? I've had the misfortune of seeing a few seconds of their TV ads, and I have to ask: what the hell is Twatter selling in their ads? Hashtag abuse? Cell phone & social media addiction? The urge to post every single fucking thing you do in your boring-as-shit day? And why do they have Pope Francis in one of them? Like he actually uses that shit. It's probably his handlers twatting stuff out for him. That don't count as an official spokesperson, Twatter!
2) The heinous ass-kissing of Bruce/Caitlyn Jenner. I hate that I have to even write the next sentence, but only because there are some people out there that truly think "self-centered failure of a parent who killed someone with her car" equals "Woman of the Year" and "Role Model for the Trans Community". Let the record show that just because I think Caitlyn is a POS who doesn't deserve all the honors she's "earned" (let's face it, that shit was bought) this year, does NOT mean I'm against the Trans community. I'm in full support of them, and if it what's Bruce wanted to do, then great. But just because you change your coat to one you've wanted to wear doesn't mean the person that wears it changes, too. Becoming a woman does not and should not excuse Jenner's failed parenting (see Kylie alone) nor should erase memories of the car accident she was in that killed another woman. Somewhere up in heaven, Arthur Ashe (whose namesake is an ESPY award that was given to Jenner this year) is side-eying some punk bitches below.
3) Cell phone addicts and the perpetual encouragement of being addicted to them. No ads to curb it, but ads to quit smoking are still around. OK…but remember this Samsung, Apple, McDonalds, Honda, T-Mobile, Twatter, and FanDuel.com or whatever sports betting site that was that has some moron looking at his phone the whole time, read my shirt:
4) Donald Trump actually being taken seriously as a presidential candidate, let alone being a politician. Do I have to explain this further?
5) The Kuntrashians, sadly still a thing these days.
6) Obviously-photoshopped pictures. And then there are the nudes. I'd like to meet the sad sack that faps to something like this so I can laugh at them.
7) Internet trolls and stalkers (both real life and cyber). Cyanide-covered dicks down their throats, all of them.
8) Selfie sticks. To which I say to owners of this symbol of our growing idiocracy: take your sticks…
9) The ingrates who went to go see "50 Shades of Not-BDSM Bullshit", who will never know what true BDSM is. And maybe good sex and a true gentleman, too.
10) And the usual bitches: Uncle Terry, Bieber, EL Shames and her "books", hashtag and selfie whores, Floyd Mayweather Jr., Kim Davis, and the idiots who don't signal when changing lanes while driving.